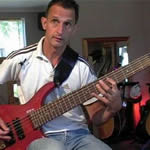 ---

Buy Learn Advanced Bass:

Only £9.99 GBP


Free Post & Packaging
Worldwide



Learn Advanced Bass Guitar - Learn Guitar DVD

Learn advanced bass guitar with this Guitar Tuition DVD. The 4th in the Learn Bass Guitar series, this DVD looks at some advanced right hand techniques that will give your bass guitar playing more variety, increase your versatility and increase your style range. Well worth a watch if you want to learn some tips and tricks that will bring your bass guitar playing to the foreground of any song.

About the Learn Guitar DVD collection:
Don't forget to check out the rest of the learn guitar dvds, whether you're a beginner wanting to learn how to play guitar or an established player looking to expand your guitar playing techniques. Each DVD is filmed in the style of a private guitar lesson to give a natural and relaxed feel to learning the guitar.

Left handed Learn Guitar DVD also available: This Learn Guitar DVD title is now available for left handed guitarists. Simply select 'Left Handed' from the drop down box on the left hand side above the 'Add to Basket' button and we will ship the 'Left Handed' version to you.