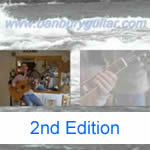 ---

Buy Guitar for Beginners:

Only £9.99 GBP


Free Post & Packaging
Worldwide



Learn Guitar for Beginners - Learn Guitar DVD

Learn how to play the guitar with this Guitar Tuition DVD. This DVD is an absolute beginners guide to playing guitar. Learn about the different types and styles of guitar that are available, learn some basic guitar techniques and exercises to help your guitar playing and learn some classic riffs to show your mates!

About the Learn Guitar DVD collection:
Don't forget to check out the rest of the learn guitar dvds, whether you're a beginner wanting to learn how to play guitar or an established player looking to expand your guitar playing techniques. Each DVD is filmed in the style of a private guitar lesson to give a natural and relaxed feel to learning the guitar.

Left handed Learn Guitar DVD also available: This Learn Guitar DVD title is now available for left handed guitarists. Simply select 'Left Handed' from the drop down box on the left hand side above the 'Add to Basket' button and we will ship the 'Left Handed' version to you.



• What type of guitar should I get?

a) Classical nylon strung
b) Metal acoustic
c) Electric
d) Bass
• Guitar terms such as action etc

• Where do I buy my instrument new/second hand?

• How do I tune the guitar?

• How do I hold the guitar should I use a strap?

• What are the basics on these instruments?

• What is finger picking?

• What is plectrum technique?

• Exercises to develop finger strength

• How do I read guitar tablature?

• How do I play rhythm guitar and keep time?

• Examples of playing basic chords

• Playing five classic tunes/riffs

• Where can I get further free guitar info?

• What is the next Step?

Related Tags: Learn Guitar DVD, Guitar, Guitar for Beginners , Play Guitar, Left Handed, Guitar Tuition, Guitar Lesson