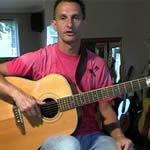 ---

Buy Working Out Songs:

Only £9.99 GBP


Free Post & Packaging
Worldwide



Learn Working out Songs - Learn Guitar DVD

Learn to work out songs with this Guitar Tuition DVD. Ever heard a song that you wished you could play on guitar, but you can't find a TAB for it anywhere? Or even wanted to develop your hearing and knowledge of common song structures and chords? This DVD will help to give you a good understanding of how songs are formed, common chords, structures and keys used and how to identify them. The knowledge learned from this DVD can be useful not only for working out somebody else's song, but can also help you to get started on writing your own songs. One of the greatest tools in music is being able to understand music and how each part works with another to create the song in its entirety. Let this DVD help to broaden your knowledge.

About the Learn Guitar DVD collection:
Don't forget to check out the rest of the learn guitar dvds, whether you're a beginner wanting to learn how to play guitar or an established player looking to expand your guitar playing techniques. Each DVD is filmed in the style of a private guitar lesson to give a natural and relaxed feel to learning the guitar.

Left handed Learn Guitar DVD also available: This Learn Guitar DVD title is now available for left handed guitarists. Simply select 'Left Handed' from the drop down box on the left hand side above the 'Add to Basket' button and we will ship the 'Left Handed' version to you.